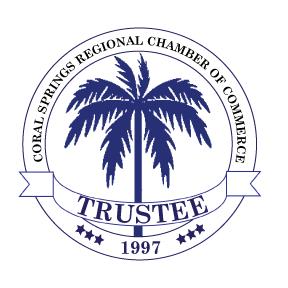 Trustee members of the Coral Springs Regional Chamber of Commerce are leaders in our community who recognize
that their business success and continued growth are tied to the community they serve. The purpose of the
Coral Springs Regional Chamber of Commerce Trustee program is to engage senior executive business leaders in active
participation with the Chamber by forming alliances with peers so they can lead our community in social and
political interactions as well as be informed regarding issues that affect Coral Springs.
Trustee members lend their concern and expertise to address issues concerning the community, politics,
and business, to help ensure a solid future for local enterprises and our citizens. Together, we are insuring the
continued growth and vitality of one another's business and that of the Chamber for many years to come.
If you are interested in becoming part of the Coral Springs Regional Chamber Trustee Program, Click Here for more information, or call the Coral Springs Chamber at 954-752-4242 or Email Cindy Brief.




Location: Runyons, 9810 W. Sample Road


Trustee Luncheon

When: Thursday, December 14 2017

Time: 11:30 am - 1:15 pm
Guest Speaker:
Steve Bonner, President of the Seminole Coconut Creek Casino

If you are interested in becoming a Trustee Click Here